Stracho Temelkovski
Origin: Macédoine
From the Balkans to the Mediterranean and Asia.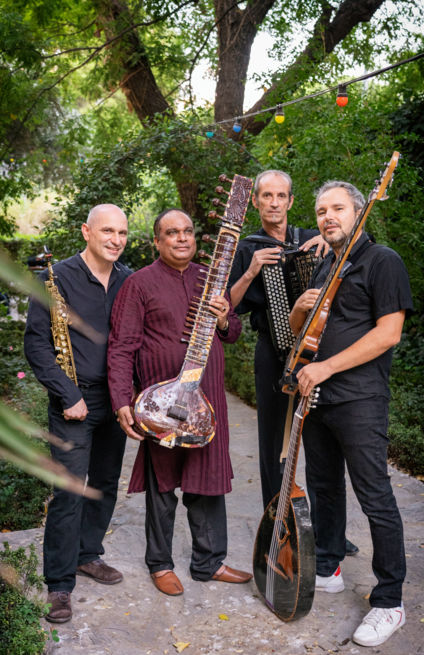 About us
Bassist, drummer & beatboxer Stracho Temelkovski has Macedonian heritage. With his Sound Braka (the brothers of sound) his music is a journey full of nuances from the Balkans, the Mediterranean and Asia.
Stracho Temelkovski's first album The Sound Braka (Brothers of Sound) transpires jazz, the Balkans, the Mediterranean and the East, near and far, or the suburbs of Buenos Aires. The album is the result of a real maturing process taking its current form during a residency at the Lyon Opera in May 2018 where Stracho invited a band of virtuoso "brothers of sound" to create together a unique repertoire.
Bassist & beatboxer Stracho Temelkovski was born in Grenoble, France on June 27, 1978 of Macedonian heritage. At a young age he taught himself to play first electric guitar, then bass, percussion, sampling and programming. He was fascinated by the improvisations of jazz soloists from Balkan brass bands, and his first group, founded when he was 15, mixed jazz-funk and dub with distinctive Eastern European sounds.
In 2003, Stracho Temelkovski replaced American jazz bassist Steve Swallow on a project with Antonio Placer the Galician musician and poet. It was with Antonio Placer that he developed the instrumental versatility that was to become his true signature.
Other collaborations followed including the French-Algerian band Gnawa Diffusion and the Cuban pianist Omar Sosa. Stracho opened for Omar when he played in Grenoble in December 2015 and they decided to work together on a few concerts as a duo. One of the concerts was recorded and In July 2020 they released a digital EP, "Live in Seynod".
Stracho Temelkovski has composed and performed music for various French contemporary dance choreographers. He is also very involved in the cultural networks and outreach projects in his area. In addition to his work with local schools and neighbourhoods, he has offered workshops in prisons for several years. The first single from the album Saudade des Baumettes was inspired by some work he did with a female Cape Verdean prisoner from the Baumettes prison in Marseille.
These enriching collaborations and experiences have allowed Stracho Temelkovski to invent a real musical alchemy, a bridge between learned music and traditional and popular music. It is this alchemy that we can hear on The Sound Braka.