Sylvain Rifflet
Origin: France
It is not only one of the best current saxophonists that we will come to applaud, but also one of his most successful works. Sylvain Rifflet has risen to a European musical level and is one of the most popular musicians to follow.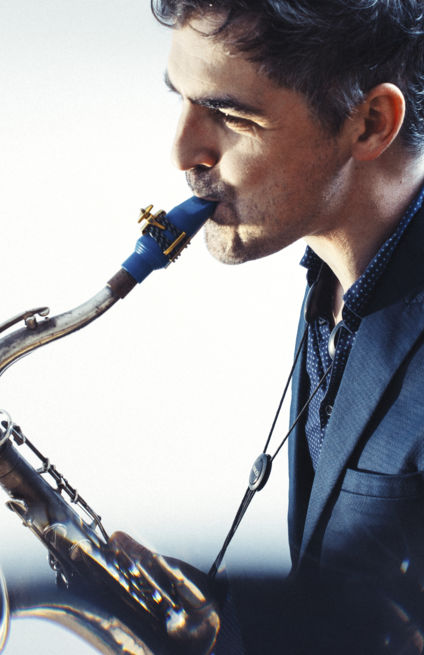 About us
Saxophonist, clarinetist, Sylvain Rifflet is one of the most brilliant jazz musicians of his generation. After "Mechanics", best french jazz album of the year 2016 then "Re Focus", released on the prestigious label Verve in reference to the historical album "Focus" by Stan Getz, "Troubadours " that received "Choc " award of the year from Jazz Magazine, he released a new album "Aux Anges" in February 2022 that received many awards and great reviews.
Saxophonist, Clarinettist and French composer, graduated from the Conservatoire de Paris, Sylvain Rifflet is the winner of the competition of La Defense and has received several awards including a "victoire du jazz" and a "Django d'or".
He has performed or recorded with many musicians, including some of the "must-see" performers on the European scene (Louis Sclavis, Aldo Romano, Michel Portal, Kenny Wheeler, Riccardo Del Fra ...) but also alongside American musicians such as Joey Baron, Jon Irabagon, Jon Hollenbeck, or Michael Formaneck ...
Spearheading the young generation of jazz musicians from the first decade of the 21st century, he has collaborated with those who are today on the front of the European "new scene": Verneri Pohjola, Airelle Besson, Thomas de Pourquery , Alban Darche, Jocelyn Mienniel, Pascal Schumacher, Rembrandt Freirichs, Florian Weber, Eve Risser, Sébastien Boisseau, Henning Sieverts and Fred Pallem ...
Noticed as a composer in 2011 after the publication of "Alphabet" he subsequently published two albums on behalf of the Jazz Village label: "Perpetual Motion - a celebration of Moondog" in 2014 and "Mechanics" in 2015.
He has also been a resident or associated artist of the following structures Jazz au fil de l'Oise, Festival Banlieues Bleues, national scene of Alençon, Conservatoire de Besançon, Festival Like a jazz Machine, (Luxembourg.) Festival Jazztopad (Poland) ...
Quoting Stan Getz as his main saxophonist influence, the composer gladly draws in the field of American repetitive and minimalist music to develop a writing mixing improvisation, repetition, rupture, "bruitism" and even sometimes trance.
External links:
Website
Concerts
Date
Concert
Place

11

Oct
Sylvain Rifflet / Direction des Arts Vivants et Visuels
Toulouse (31) Direction des Arts Vivants et Visuels

12

Oct
Sylvain Rifflet / Atmac / Centre Culturel Paul Baillart
Massy (91) Atmac / Centre Culturel Paul Baillart

29

Oct
Sylvain Rifflet / Belgrade Jazzfest
Beograd (11) Belgrade Jazzfest

17

Nov
Sylvain Rifflet / Charleville Action Jazz
Charleville (08) Charleville Action Jazz